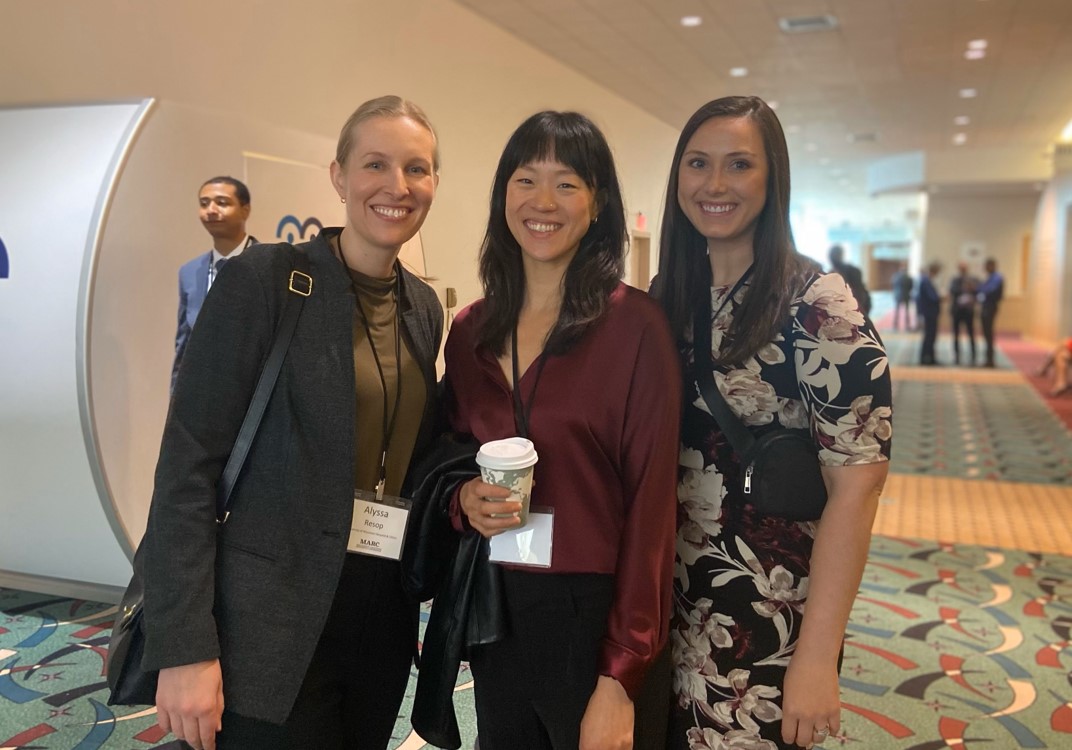 The University of Wisconsin Department of Anesthesiology showcased 27 resident and fellow presenters, and 24 faculty judges at the Midwest Anesthesia Resident Conference (MARC). The conference took place April 14th-16th in Milwaukee, Wisconsin at the Wisconsin Center. As event co-hosts with the Medical College of Wisconsin, Drs. Kristopher Schroeder, Aaron Chopee, Jeffrey Grzybowski, Michelle Kuei and Courtney Kohn provided leadership and support in organizing the event. This year's Conference attracted residents, fellows, faculty, and students from throughout the Midwest and included participants from 35 different anesthesia departments.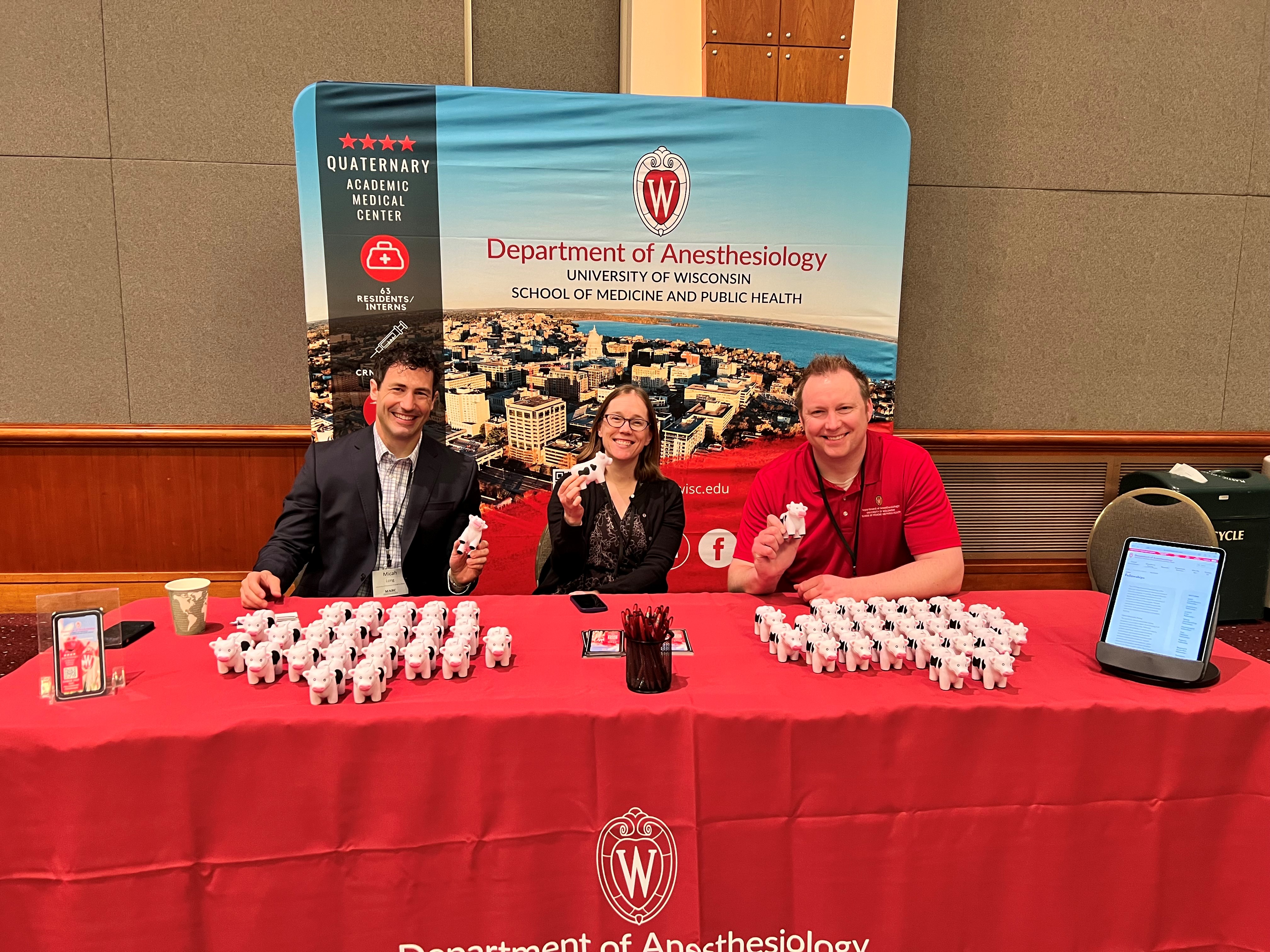 On Saturday the department hosted a Fellowship information table staffed by Dr. Kelly McQueen, Dr. Micah Long, Dr. Bridget Muldowney, Dr. Christopher Cassara, Dr. Patrick Meyer, Dr. John-Henry Harrison, Dr. Michael Hannaman,  Dr. Kenneth Van Dyke, Brandon Russell, Kim Rogan and Michelle Grosch. Many visitors stopped by to ask questions about our robust fellowship offerings including: Adult Cardiothoracic Fellowship, Ambulatory Fellowship, Critical Care Fellowship, Global Anesthesiology Fellowship, Neurosurgical Fellowship, Pain Medicine Fellowship, Pediatric Fellowship, Regional & Acute Pain Fellowship and Transplant Fellowship. In addition to resident visitors, many medical students dropped by to learn more about our Residency Program.
Congratulations to all the presenters and a special thank you to all judges, faculty mentors and the education team for all of their efforts to support this important regional event.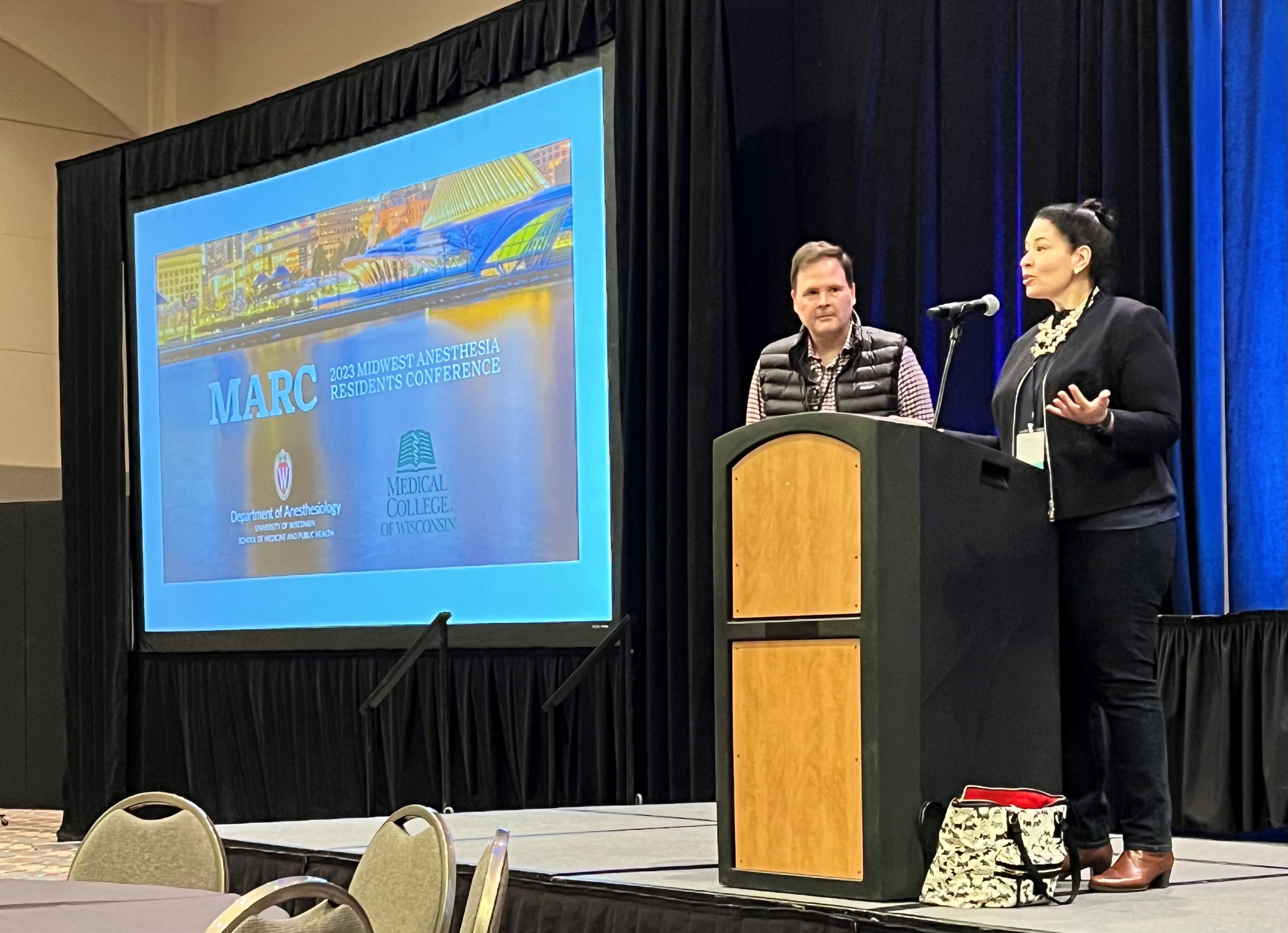 Awards Ceremony
After a full day of presentations and sessions on Saturday the much anticipated awards ceremony took place on Sunday morning. Drs. Kristopher Schroeder,  and Christina Diaz event Co-chairs commended and thanked all the participants and announced this year's award winners. We are proud to share our department entries collectively earned eleven awards placing either, First, Second or Third Place in the following categories: Regional, General, Pain, Cardiovascular, Neuroscience, Ambulatory and Airway.
Award Winners and Mentors
Bobbi Burgess, M2 – First Place: Regional. Title: A Dedicated Nursing Code Team Improves CPR Quality During In-Hospital Cardiac Arrest Events.  Mentor, Micah Long, MD
Cynthia Iradukunda, MB, ChB, CA2 – Third Place: General.  Title: Transient Reperfusion Syndrome in a Patient Undergoing VATS Converted to Open Thoracotomy For Left Upper Lobectomy Complicated by a PA Injury.  Mentor, Anila Bhatti, MD
Ho-Young Ahn, MD, PGY1 – First Place: Pain (Session 102B).  Title: Phantom Limb Pain Successfully Treated by Temporary Peripheral Nerve Stimulation. Mentor: Alaa Abd-Elsayed, MD
Andrew Shold, MD, CA3 – Second Place: Cardiovascular (Session 102C). Title: Emergent Coronary Bypass Graft Following Entrapment of Percutaneous Coronary Intervention Wire and Right Coronary Artery Dissection. Mentor: Katherine Kozarek, MD
Brandon Hernandez, MD, CA3 – Second Place: Cardiovascular (Session 101D). Title: Hypertensive Emergency in OR Prior to CABG.  Mentor: Joshua Sebranek, MD
Emmeline Chuu, MD, CA1 – First Place: Neuroscience (Session 103C). Title: Is Neuromuscular Blockade Necessary to Suppress Tardive Dyskinesia Symptoms During Imaging Studies? Mentor: Adrian Pichurko, MD
Kaitlin Woods, MD, CA2 – First Place: General (Session 102A). Title: The Young "Healthy" Athlete.  Mentor: Elizabeth Wilson, MD
Coleen Hurd, DO, CA3 – Second Place: Cardiovascular (Session 102D). Title: Perioperative Management of Carcinoid Syndrome and Carcinoid Heart Disease. Mentor: Katherine Kozarek, MD
Emmett Swanton, DVM – First Place: Ambulatory (Session 103C). Title: Field Anesthesia of a Dromedary Camel Using Triple Drip. Mentor: Carrie Schroeder, DVM
Sarah Saenz, MD, CA1 – Third Place: Airway (Session 102E). Title: Anesthetic Considerations for Symptomatic Mediastinal Mass. Mentor: Micah Long, MD
Mark Abellera, MD, CA3 – First Place: Cardiovascular (Session 103B).  Title: Anesthetic and Surgical Positional Considerations in Patient with Ruptured Abdominal Aortic Aneurysm with Profound Kyphosis. Mentor: Zoltan Hevesi, MD
Not pictured: Dr. Emmett Swanton, DVM