Our vision is to sustainably improve access to safe anesthesia, pain management, and critical care in low and middle-income countries through service, education and training, and research.
The Global Anesthesia Programs of the Department of Anesthesiology seeks to improve the lives of patients in low and middle-income countries by improving access to safe anesthesia.  Through partnerships with Universities and Non-governmental Organizations, we accomplish this goal through service, education and training, and research.
This global initiative within the Department of Anesthesiology at The University of Wisconsin School of Medicine and Public Health is taking an innovative approach to enhance perioperative care in Low Middle-Income Countries (LMICs) through education, research, and clinical delivery of care. We will serve using innovative and global solutions which will result in equitable, improved, and sustainable perioperative outcomes in targeted LMICs countries.
Three Key Outcomes:
Education: To implement programs both locally and internationally that result in positive shifts in the care of surgical patients in LMICs.
Research: To conduct innovative research in global perioperative care.
Clinical Care: To participate in and train physicians to responsibly engage in the safe perioperative care of patients in LMICs, both at home and abroad.

Current Locations
Rwanda and Zambia
Past Locations
Nicaragua, Thailand, Myanmar, Honduras, Dominican Republic, Ecuador, Guatemala
The Global Academic Anesthesia Consortium
A collaborative network of academic departments supporting a Global program committed to building anesthesia infrastructure through service, education and research program in low or lower-middle income countries (LMICs).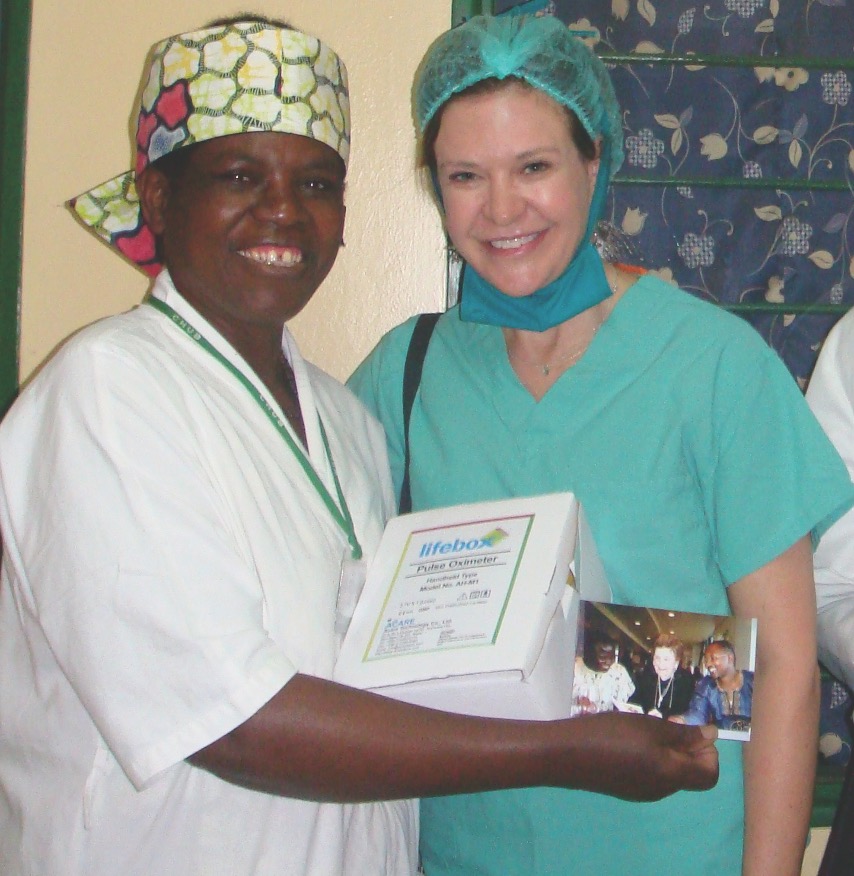 The University of Wisconsin School of Medicine and Public Health Department of Anesthesiology (UWSMPH DOA) is currently developing The Global Academic Anesthesia Consortium (GAAC). The GAAC will consist of several academic anesthesiology programs with a collective interest and focus on supporting anesthesia education training, quality initiatives, and research. Initially, the consortium will support one or two centers in LMICs. Our goal is to progressively improve the quality of anesthesia training and help to increase the number and expertise of trainees in Sub-Saharan Africa.
All departments will participate in the shared vision and strategy of educational training tailored to the specific needs of the programs we support. There will also be excellent opportunities for the development of clinical, educational, and quality research projects abroad. This Consortium will provide excellent rotations for U.S. residents interested in gaining knowledge of global anesthesia volunteerism and the provision of anesthesia in a country with limited resources.
We anticipate that commitment coverage for each participating institution will be approximately 4 weeks in-country (COVID pending), however, this will be flexible. All academic centers will share responsibility for providing educational resources and supporting travel and housing for their faculty and residents traveling abroad.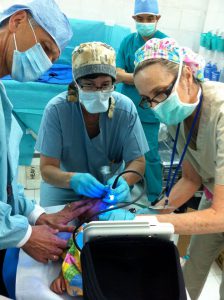 The UWSMPH DOA is currently seeking funding support for the multi-center collaboration of academic centers that will support the development of an anesthesia residency program and participate in the education and training (both virtual and on-site) of anesthesiologists, anesthetists, and anesthesia residents initially in Lusaka, Zambia in collaboration with the University of Zambia. Future center expansion is anticipated.
We are actively recruiting other academic anesthesia programs to participate in The Global Academic Anesthesia Consortium. Please email Dr. Kelly McQueen for more details.
This is an accordion element with a series of buttons that open and close related content panels.
GAAC: FAQ
What is GAAC?
The Global Academic Anesthesia Consortium is a group of US Academic Departments of Anesthesiology committed to providing education, training, and research in low and middle-income countries. Further this group is committed to providing quality global health experiences to interested residents and fellows within our training programs. The GAAC will accomplish these goals through sustained partnership with a university in a low or middle-income country
Where will the GAAC focus?
The GAAC will initially focus in Lusaka, Zambia at the University of Zambia. Other programs may be considered in the future.
Who will manage the logistics and legal requirements associated with the GAAC?
The University of Wisconsin – Madison, Department of Anesthesiology will provide the administrative, legal and logistical support for the GAAC.
What is required for participation?
Participating Universities will be required to sign the GAAC MOU, commit to an annual time frame (2-4 weeks), and provide the annual support as listed in the budget. Further, it is recommended that all participating programs agree to the guidelines for safe global health practice for their residents, fellows and faculty.
What is the annual budget?
The annual budget will cover all annual administrative fees, include an administrative coordinator, legal fees, maintenance of the MOUs, local housing with staff, electronics, Wi-Fi, phone service, general household goods, security, and transportation.
What is not included?
Travel, visas, vaccinations, and food.
Who may participate?
Faculty Anesthesiologists, Anesthesia residents in good standing, Anesthesia fellows in good standing. It is up to the participating organization as to the number of each during the weeks they are covering.
Is resident supervision required on-site?
For residents to receive credit for work abroad, supervision is required on-site.
What are the ABA requirements for resident participation?
Residents have the option to complete training away from their ACGME-accredited anesthesiology programs. This option is not available during the last three months of residents' CA-3 year or until after they complete at least one year of clinical anesthesia training, unless the training will be in another ACGME-accredited anesthesiology program.
Current Residency Review Committee requirements limit training in institutions not integrated with the resident's ACGME-accredited program to a maximum of 12 months throughout the CA 1-3 years.
The request for approval must include a chronological description of the rotations, information about resident supervision, and assurances that residents will follow the limits on training away from their ACGME-accredited programs. Further, residents must remain enrolled in their programs while training away from the ACGME-accredited programs, and their programs must report the training on the CCC report filed for the period involved.
Programs may receive a one-time blanket approval for a sustained rotation abroad.
What are the housing arrangements?
Following the site visit in March/April 2022 specifics regarding housing will be available.  The goal is to rent a large house, close to the University of Zambia for ease of transportation to and from the hospital.
What are the arrangements for transportation to and from the hospital?
Transportation will be provided for all transfers – airport and daily hospital. More details will be available following the March/April 2022 site visit.
What security measures are in place?
A security analysis will be performed during the March/April 2022 site visit. It is likely that a security service will be hired to ensure the safety of the teams and the rental house during all visits.
Any other questions can be directed to:
Kelly McQueen, MD, MPH, FASA
Ralph M Waters Distinguished Chair in Anesthesiology
Chair and Professor
Department of Anesthesiology
University of Wisconsin School of Medicine and Public Health, Madison, WI
Kelly.mcqueen@wisc.edu
Deborah Rusy MD, MBA, FASA
Professor of Anesthesiology
Director of Global Health
Department of Anesthesiology
University of Wisconsin School of Medicine and Public Health, Madison, WI
darusy@wisc.edu
GAAC: Preparing to Travel
Images from the Field
Dr. Hazel Sonkwe, Dr. Jane Kabwe, Dr. Hazel Sonkwe, Dr. Masuzyo Zyambu, and Dr. Rusy, Zambia 2022
Dr. Hazel Sonkwe, Dr. Emmanuel Maksa, and Dr. Kelly McQueen, Zambia 2022
Dr. Jane Kabwe, Dr. Masuzyo Zyambu, Dr. Hazel Sonkwe, and Dr. Rusy, Zambia 2022
Dr. Robitaille, Dr. Kravchenko, Nicaragua 2017
Dr. Muldowney, Dr. Wynn, Nicaragua 2010
Dr. Sebranek, Nicaragua 2005
Dr. Kirvassilis, Dr. Rusy, Dr. Nguyen, Dr. Klesius, Nicaragua 2017
Dr. Rusy, Dr. Quảng Ngãi, Vietnam