This is an accordion element with a series of buttons that open and close related content panels.
Wellness at the Department of Anesthesiology
The Department of Anesthesiology is committed to promote health and wellness of all of its members including faculty, clinical anesthetists, residents, medical students, administrators, and staff. The goal is to establish a strong wellbeing and work-life balance of all members of the Department of Anesthesiology, including faculty, residents, fellows, CA's, APP's, NP's and administration. As part of an ongoing effort, the Wellness Committee has started a few initiatives including it's own Peer Support Program. 
Peer Support Program
What is Peer Support?
Confidential, legally protected connection to a clinical peer for support after experiencing difficult and stressful work events.
The Department of Anesthesiology's Peer Support Program works in conjunction with the hospital-wide Peer Support Program, managed via employee health (EH), directed by Dr. Mariah Quinn.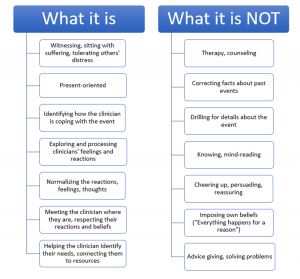 Options for Support 
Provider contacts EH Peer Support Porgram and matched
with Hospital Peer Supporter
within 24-48 hours. Can
request another peer supporter if not well matched.
OR
Provider contacts DOA Peer
Supporter of their choice
OR 
Peer Supporter reaches out to
DOA member.
For more information, please contact Dr Head at dehead@wisc.edu
Events
Future Events 
The Ride | September 26 – October 10, 2021
The Ride powers the greatest cancer minds, ideas and technologies at the University of Wisconsin. Walk, run, or bike to advance state-of-the-art cancer treatment initiatives forward. Join and support the Department of Anesthesiology's team and sign up here. 
Stay tuned for more upcoming Wellness events!
Past Events and Features in Madison 
Resources
Members of the Commitee
| | | |
| --- | --- | --- |
| Position Title | Name | Committee Role |
| Committee Chairperson | Diane Head, MD | Peer Support lead, Budget lead |
| Committee Co-Chair | Peter Popic, MD | UWHC Provider Wellbeing liaison, Budget |
| Committee Co-Chair | Meghan Warren, MD | Activities/social lead; Budget, alternate to UWHC Provider Wellbeing committee |
| Committee Co-Chair | Will Filbey, CA | Communications lead |
Work Life Balance Committee Members
AFCH/Peds                      Peter Popic
Ambulatory                    Meghan Warren
Board Runners              Katherine Kozarek
Cardiac                            Diane Head
Critical Care                    Anila Bhatti
Generalists                     Paul Rabadeaux
MSC                                  Jill Patzner
Neuro                               Whitney Fallahian
Pain                                   **
Regional                          Kristin Bevil
TAC                                   Elizabeth Wilson
Residents                        Hillary Minich
Admin                              **