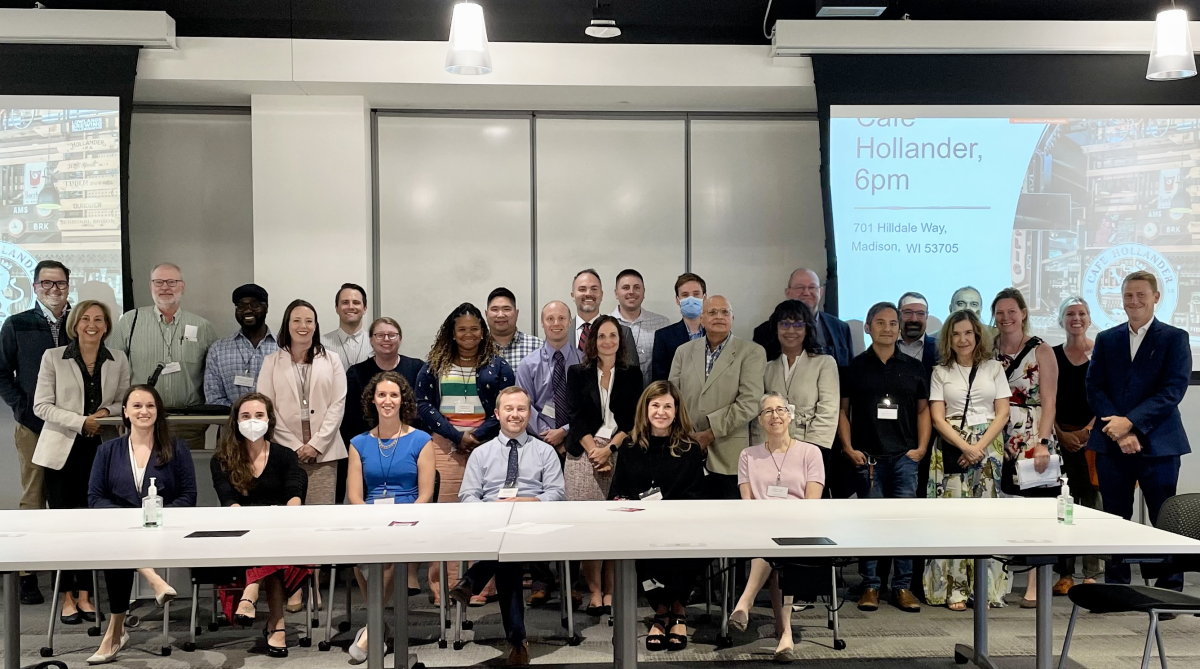 The Midwest Academic Anesthesia Exchange (MAAX) Faculty Development Seminar was hosted by the UW-Madison Department of Anesthesiology on Saturday, June 30th in Madison, Wisconsin at the Health Sciences Learning Center. The all-day Seminar provided early career professionals with information and strategies to enhance both faculty development and promotion. Thirty-five faculty from the University of Minnesota, University of Wisconsin-Madison, Medical College of Wisconsin, University of Nebraska, and the University of Iowa attended the Seminar.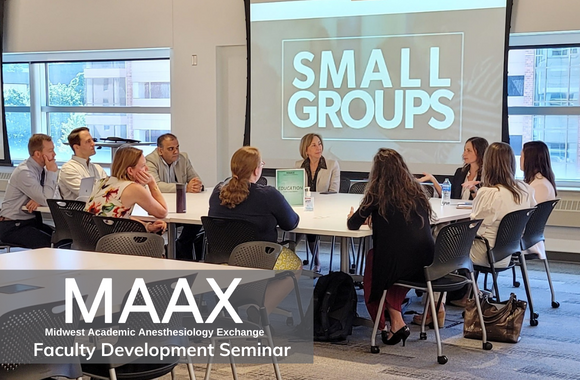 The seminar began with a welcome from the University of Wisconsin Department of Anesthesiology Chair, Dr. Kelly McQueen, and Co-Seminar organizer, Dr. Kristin Bevil. The morning included a panel: Pathway to Promotion moderated by Dr. Steven Lisco and presented by panelists: Drs. Christina Diaz, Kris Schroeder, Doug Coursin, Kumar Belani, and Cynthia Wong. Small group sessions were held in the morning and afternoon on five topics including Education, Mentoring, Project Development, Wellness, and Clinical Research.
Early Career Lecture Sessions were presented throughout the day by the following presenters: Dr. Ben
Fuller, Dr. Katherine Keech, Dr. Gwynne Kirchen, Dr. Rick Lennertz, and Dr. Kaarin Michaelsen. The afternoon concluded with a panel titled: Looking Beyond Promotion moderated by Dr. Kris Schroeder with six distinguished panelists: Drs. Doug Coursin, Dawn Dillman, Amy Duhachek-Stapelman, Chris Turner, Kelly McQueen, and Cynthia Lien.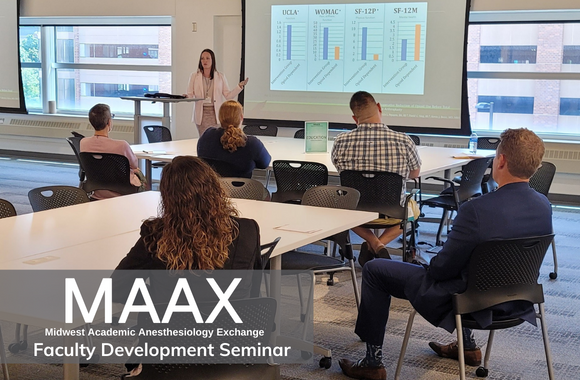 Following the seminar, attendees met for dinner at a local dining establishment which offered more opportunities to network and for discussions of research, educational projects, and clinical projects at a regional level. The seminar's organizers, Drs. Lisa Klesius and Kristin Bevil, expressed their satisfaction with the Seminar and thanked the Department Administrative staff for helping to make the event a success. The next MAAX Faculty Development Seminar is anticipated to take place in the fall of 2023 at the University of Minnesota. More information to come! If you are interested in learning more about MAAX or opportunities within this Regional Professional Group, please contact Dr. Kristin Bevil, Dr. Lisa Klesius, or Dr. Kris Schroeder.