Welcome Message from the PD:
Our division of neuroanesthesia is dedicated to the anesthetic care of neurosurgical and neurologically at-risk patients. Whereas historically our division specialized in intraoperative neuromonitoring, our mission today extends to perioperative neurosurgical care, patient safety, and trainee education. Our fellowship is structured after the guidelines set by the Society for Neuroscience in Anesthesia and Critical Care*. Fellows engage in a rich variety of experience, rotating in neurocritical care, intraoperative neuromonitoring, pediatric neuroanesthesia, and neuroradiology. The curriculum is tailored to the needs and experience of the fellow.
Thank you for your interest in our program. For further details on our educational mission, program structure, and other offerings, please contact me directly.
Kind regards,
Adrian Pichurko, MD
Mashour 2013 Neuroanesthesiology Fellowship Training
*Mashour GA, Avitsian R, Lauer KK, Soriano SG, Sharma D, Koht A, Crosby G; Society for Neuroscience in Anesthesiology and Critical Care. Neuroanesthesiology fellowship training: curricular guidelines from the Society for Neuroscience in Anesthesiology and Critical Care. J Neurosurg Anesthesiol. 2013 Jan;25(1):1-7. doi: 10.1097/ANA.0b013e3182785d5d. PMID: 23171854.
For More Information
Brandon Russell
Fellowship Coordinator
University of Wisconsin Hospital and Clinics
600 Highland Ave, B6/319
Madison, WI 53792-3272
russell2@wisc.edu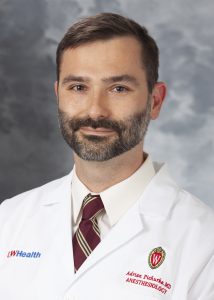 Adrian Pichurko, MD
Fellowship Director