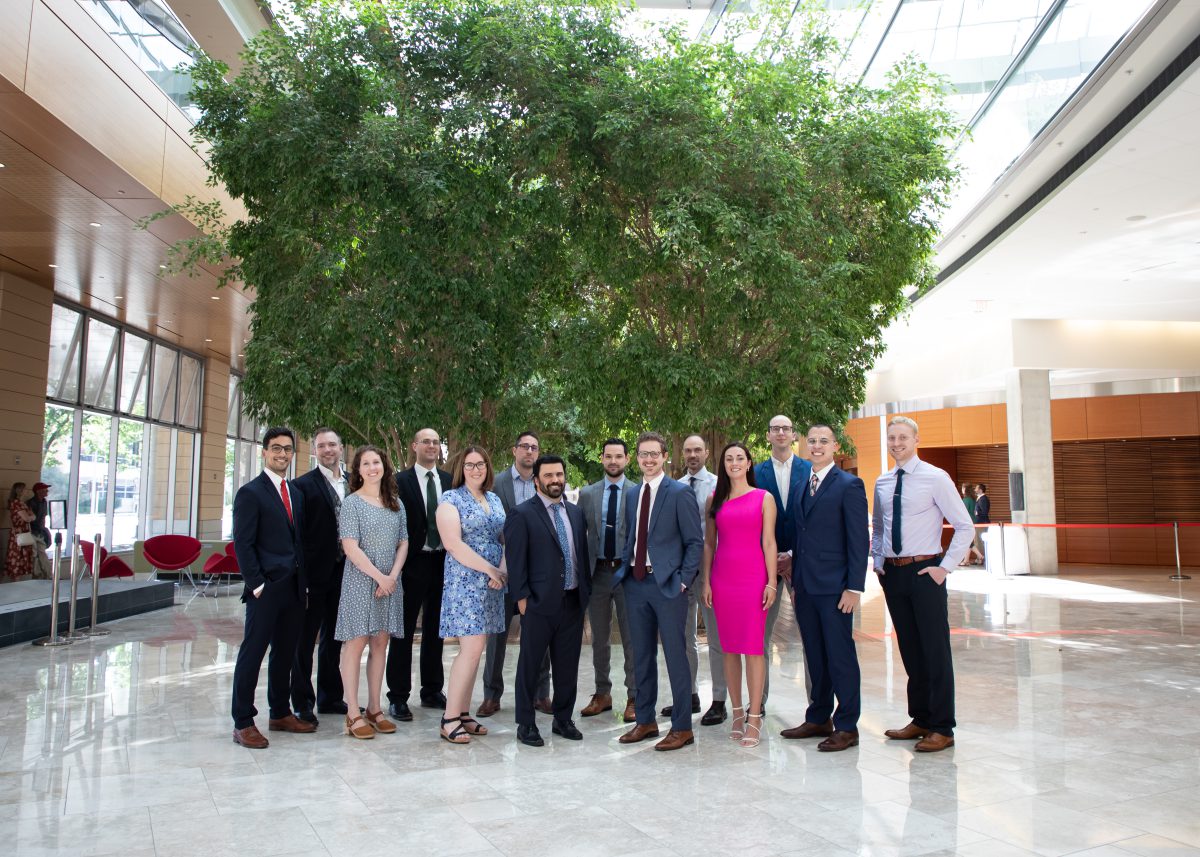 Afternoon Reception followed by Graduation Ceremony
Saturday, June 18th the Department of Anesthesiology matriculated 7 fellows and 14 residents. The graduation and award ceremony began with an afternoon reception at the Discovery Center at the University of Wisconsin Madison Central campus. Graduating fellows and residents, along with their family and friends, and colleagues were greeted by Department Chair, Kelly McQueen, MD, MPH, FASA, and Resident Program Director, Christopher Darling, DO. Faculty mentors presented each graduate with their framed diploma, along with thoughtful speeches of heartfelt reminiscing of each graduate's time at the University of Wisconsin. Many hugs were given and tears shed.
The first awards of the evening were presented to faculty. Jessica Rock, MD of Meriter was awarded the the Non-UW Faculty Teacher of the Year Award. Rock was recognized as a non-UW faculty member for exemplary teaching of medical knowledge, technical skills, and clinical judgment. Eric Simon, MD accepted the second award of the evening, the Teacher of the Year Award. CA1-3 residents award this to a UW faculty anesthesiologist in recognition of exemplary teaching of medical knowledge, technical skills, and clinical judgment. The next faculty award, The Clinical Role Model Award was presented to Christopher Cassara, MD. CA3 residents select a UW faculty anesthesiologist after whom they will model their own practice, and who demonstrates dedication and selflessness in their service to their patients, loyalty to their colleagues, and commitment to activities within the department and outside of UW.
Brian Cacioppo, MD captured the first resident award. Cacioppo received the Resident Teacher of Medical Students Award. This graduating class resident who receives this award has most frequently been mentioned in evaluations of the anesthesiology clerkship as an outstanding teacher of medical students and role model. Next, Outstanding Senior Resident Award was awarded to Jeremy Grate, DO. The Department faculty vote annually on their choice of a resident of the year in the graduating class. The resident recipient demonstrates excellent clinical work and academic performance but also embodies professionalism, teamwork, and interpersonal skills that all of us strive to achieve. The final resident award the Virginia Apgar Award was presented to Nyle Larson, MD. This award is given by the chief residents in consultation with the Program Director and Chair of the Department in recognition of a resident whose enthusiasm, kindness, and skill are an inspiration to their fellow residents.
The evening concluded with the final award, Fellow of the Year Award. This award was presented to Michelle Kuei, MD. This award is given to a fellow in either an accredited or non-accredited fellowship that demonstrates enthusiasm, commitment, academic excellence, and clinical distinction. 
Fellowship Graduates:
Adult Cardiothoracic Anesthesiology:
Todd Korthals, MD post-fellowship plans at Gundersen Health System, La Crosse, Wisconsin
Callana Fox, MD post-fellowship plans at Rocky Mountain State Anesthesia Providers in Fort Collins, Colorado
Regional and Acute Pain Anesthesiology
Dean Weich, DO post-fellowship plans at General Anesthesia at Aurora Summit
Michelle Kuei, MD post-fellowship plans Faculty at UW-Madison, School of Medicine Public Health, Department of Anesthesiology
Paul Vithayathil, MD post-fellowship plans at the University of Washington Medical Center Northwest
Regional and Acute Pain Anesthesiology
Stuart Feichtinger, MD post-fellowship plans include an Adult Cardiothoracic Fellowship at UW-Madison, School of Medicine Public Health, Department of Anesthesiology
Regional and Acute Pain Anesthesiology
Elizabeth Townsend, MD, PhD post-fellowship plans Faculty at UW-Madison, School of Medicine Public Health, Department of Anesthesiology
Regional and Acute Pain Anesthesiology
Benjamin Becker, DO post-residency plans Cardiothoracic Anesthesia Fellowship at the Mayo Clinic
Brian Cacioppo, MD post-residency plans include a Liver Transplant Anesthesiology Fellowship, UW-Madison, School of Medicine Public Health, Department of Anesthesiology
Kaytie Curtis, MD post-residency plans Gundersen Lutheran Medical Center, La Crosse, Wisconsin
Timothy Ford, MD post-residency plans Anesthesiology Critical Care Fellowship at Medical University of South Carolina (MUSC)
Adam Forshaw, MD post-residency plans Mercyhealth Private Practice, Janesville, Wisconsin
Jeremy Grate, DO post-residency plans Anesthesiology Critical Care Fellowship, Emory University, Atlanta Georgia
Nyle Larsen, MD post-residency plans Private Practice – Madison Anesthesiology Consultants, Unity Point – Meriter Hospital, Madison, Wisconsin
Keegan McAfee, DO post-residency plans Fairbanks Memorial Hospital, Fairbanks, Alaska
Hillary Minich, DO post-residency plans UC Health Memorial Hospital, Colorado Springs, Colorado
Robert Pellicer, DO post-residency plans include a Regional and Acute Pain Fellowship, UW-Madison, School of Medicine Public Health, Department of Anesthesiology
Victoria Ray, MD post-residency plans Private Practice – Columbia Anesthesia Group, Southern Washington
Timothy Rushmer, MD post-residency plans include a Chronic Pain Fellowship at Mass General Hospital
John Silva, MD post-residency plans Regional and Acute Pain Fellowship, UW-Madison, School of Medicine Public Health, Department of Anesthesiology
Lucas Vannoy, DO post-residency plans Private Practice – Spartanburg Regional Healthcare System, South Carolina