The Division of Regional Anesthesia and Acute Pain Medicine at the University of Wisconsin draws upon the abundant resources and surgical case diversity afforded by a world class healthcare institution. In particular, this service provides exemplary pain management to orthopedic, breast, cardiac, thoracic, vascular, general surgery and transplant surgical procedures. In addition, this service/division extends their expertise throughout the hospital to provide care to patients suffering with chronic pain/ exacerbations, cancer pain or acute pain following traumatic injuries.
The diversity of procedures performed and medical therapies provided is constantly evolving and members of the Regional Anesthesia and Acute Pain Medicine Division at the University of Wisconsin are at the cutting edge of current therapeutic modalities. From this service, flow a variety of novel interventional techniques, continuous catheter techniques and medication infusions designed to alleviate pain at a wide variety of anatomical locations.
In addition to providing excellent clinical care, the Regional Anesthesia and Acute Pain Medicine Division is active at the regional and national level where they hold multiple leadership positions within the Wisconsin Society of Anesthesiologists, the American Society of Regional Anesthesia and the American Society of Anesthesiologists. Members of the Regional Anesthesia and Acute Pain Medicine team are also active academically where they perform significant clinical research and disseminate information and technical expertise via their work presenting lectures and workshops.
The Regional Anesthesia and Acute Pain Medicine Division excels in the provision of education and is consistently rated as one of the most popular resident rotations. This resident education is provided via intensive hands-on training, didactics, cadaver and simulation experiences. Medical student and other learners also benefit from instruction at the hands of acute pain medicine specialists and, regardless of their future plans, leave more equipped to manage patients with an array of complicated pain management problems. In addition, an active fellowship program has produced a significant number of alumni that have excelled in private practice and academic settings.
The Regional Anesthesia and Acute Pain Medicine Division attempts to foster collaboration with a wide variety of colleagues. Diligent work with surgical providers has vastly increased the scope of patients that might benefit from regional anesthesia procedures. The Regional Anesthesia team also works in close partnership with those providers that focus on chronic or interventional pain management and, through collaborative efforts, have greatly improved the ability to manage inpatients suffering with chronic pain conditions. Finally, this spirit of outreach and collaboration has extended to the School of Veterinary Medicine where there are continuous and collaborative efforts to improve and increase the analgesic options available for animals with pain.
The Regional Anesthesia and Acute Pain Medicine Division is a team that is comprised of a variety of valued healthcare providers from diverse backgrounds. This team is comprised of and values the contributions made by Physician Anesthesiologists, Nurse Practitioners, Physician Assistants, Block Nurses and Nursing Assistants that contribute to our ability to serve our patients.
DIVISION HIGHLIGHT
Dr. Patrick Meyer is the current Fellowship Director for the Regional Anesthesia and Acute Pain Medicine Fellowship. He is dedicated to providing the best educational experience for our fellows and ensures our graduates are skilled at providing cutting edge regional anesthesia and acute pain care. He was also voted as Teacher of the Year for 2020-2021 by the residency class!
Division Chief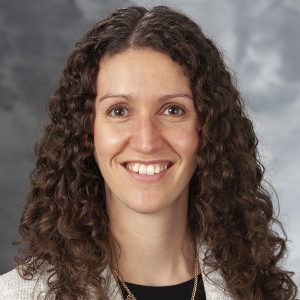 Lisa Klesius, MD
Assistant Professor
608 265-7936
Lisa Klesius, MD
Specialists
Kristin Bevil, MD
Jocelyn Blake, MD
Thomas Broderick, MD
Jeffrey Grzybowski, MD
Lisa Klesius, MD
Patrick Meyer, MD
Elizabeth Scholzen, MD, MHA
Kristopher Schroeder, MD
Elizabeth Wilson, MD