The Division of Neuroanesthesia provides perioperative care to patients undergoing a myriad of neurosurgical cases including spinal fusion or decompression, resection of spine and brain tumors, open or endovascular correction of spinal or intracranial vascular malformations and aneurysms, cerebrospinal fluid shunts and surgical interventions for movement disorders and epilepsy.
The Division takes pride in providing cutting-edge perioperative care for all patients. We strive to maintain our expertise in the latest advancements in neurosurgical techniques, therapeutics and neuro-monitoring. Members of our division participate in both clinical and bench neuroscience research. We foster a welcoming and nurturing atmosphere for resident, fellow and medical student learners.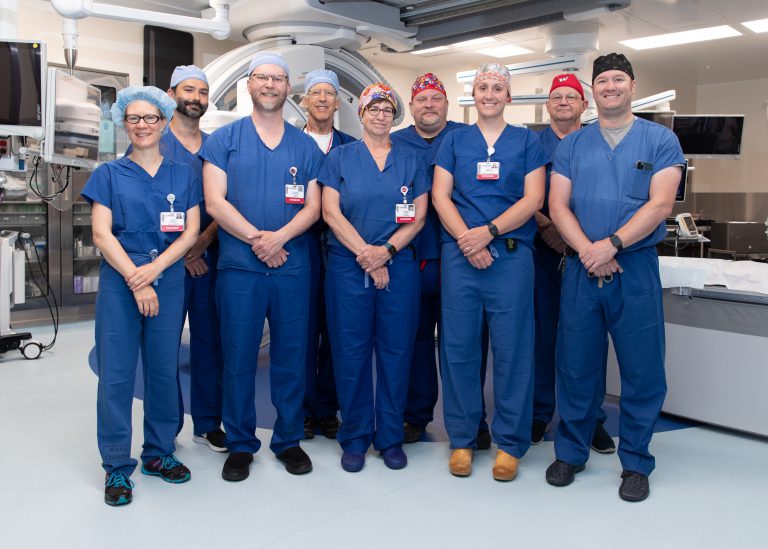 DIVISION HIGHLIGHT
Dr. Whitney Fallahian's ongoing research on how the choice of anesthetic type can affect both short and long term outcomes for patients undergoing endovascular stroke treatment will help to guide how we take care of these patients in the future.
Division Chief
Corey Amlong, MD
Assistant Professor
608 262-2310
caamlong@wisc.edu
Specialists
Corey Amlong, MD
Aimee Becker, MD, MBA
Whitney Fallahian, MD
Joel Johnson, MD, PhD
Adrian Pichurko, MD
Deborah Rusy, MD, MBA, FASA
Christopher Turner, MD, PhD, MBA
Kenneth Van Dyke, MD
Adam Weinstein, MD
Karl Willmann, MD