The Division of Adult Multispecialty Anesthesia is committed to providing the best evidenced-based care, fostering innovation and encouraging individuals to pursue clinical and research interests.
We provide anesthesia care across a wide range of surgical specialties including; ear, nose and throat (ENT), plastic surgery, orthopedic surgery, general surgery, neurosurgery and vascular surgery. We also provide anesthesia services for a number of non-OR procedures including those in interventional radiology, brachytherapy, interventional neuroradiology, gastroenterology and interventional radiology.
Our wide ranging research interests include both lab based basic science research as well as active clinical research. Our faculty have been involved in various different areas of interest such as developing ERAS protocols for various services, using jet ventilation in a novel way for solid organ ablations, and ground breaking work on the use of convalescent plasma and vaccines during the COVID pandemic. Ongoing projects by our faculty include research in mechanisms of anesthetic action in animal models, trial site of the large multicenter CONSCIOUS 2 study, and a multidisciplinary study of antidepressant effects of psilocybin. In addition to our own projects, we devote our time to help our residents and medical students produce research that is presented at regional and national meetings as well as published in a wide variety of journals.
Non-OR anesthesia (NORA)
Non-OR anesthesia (NORA) cases make up approximately 20 percent of total anesthesia case at UW Health, or more than 8000 cases per year. These cases include cardiac, radiologic imaging, CT ablation, interventional radiologic, neuroendovascular, stroke and gastroenterology procedures as well as radiation therapy treatments. Overall NORA volumes have increased approximately 10 percent annually for nearly 10 years. We see no likelihood of this changing in the future.
Dedicated to training future professionals who will advance the practice of anesthesia, we consider education integral to our division. We teach a variety of learners about our specialty and show how our work integrates with the world of medicine. We train residents at most of UW Health's clinical locations and expand our reach to alternative settings by providing educational opportunities in simulation for medical students, residents and other learners.
Ambulatory Anesthesia
Ambulatory Anesthesia proudly provides comprehensive and compassionate care to an increasing number of patients in a variety of procedure centers. We effectively care for a wide spectrum of patients by adopting innovative procedures and the latest evidence-based anesthesia modalities.
At Madison Surgery Center and Transformations Surgery Center, for example, we employ a host of general, regional and monitored anesthesia care (MAC) techniques for general, ophthalmology, orthopedic, otolaryngology, plastics, pediatric, urology and vascular surgeries performed at these locations. We provide sedation services at Generations Fertility Center and the Digestive Health Center. We also provide coverage for University Hospital's Outpatient Surgery Center (OSC), where patients with more serious comorbidities are cared for on an outpatient basis.
Complementing our steadfast clinical mission, our division also offers a variety of educational opportunities. Beginning in their first year, residents are required to complete a four-week rotation in OSC. There they are introduced to the challenges and nuances of ambulatory anesthesia. We also offer a senior ambulatory anesthesia elective for third-year residents who wish to operate in a more independent fashion. Finally, our division houses a unique fellowship in ambulatory anesthesia and administrative medicine that offers insight into the business, financial and administrative aspects of an anesthesiology practice. 
Division Highlight
Dr. George Arndt has dedicated his career to advancing the practice of anesthesiology in airway management. His many innovations — including the Arndt Endobronchial Blocker and the Arndt Wire-guided Airway Exchange Catheter — have improved the safety of anesthesia. Dr. Arndt's immense impact extends to education. He has trained residents and medical students for more than three decades. His Arndt Airway Course, held annually for the last 20 years, has helped learners of all disciplines advance their practice of airway management.
Division Chief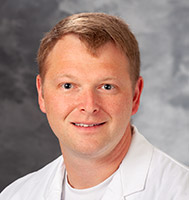 Timothy McCormick, DO
Clinical Assistant Professor
608 265-2813
tmccormick3@wisc.edu
Specialists
Heather Abernethy, MD
George Arndt, MD
Colin Boettcher, MD
Michael Ford, MD
James Gentry, MD, MMS
Susan Goelzer, MD,MS,CPE
William Hartman, MD, PhD
Paul Kranner, MD
Jeffrey Lee, MD
Richard Lennertz, MD, PhD
Sergei Lopukhin, MD
Timothy McCormick, DO
John Penner, MD
Misha Perouansky, MD
Paul Rabedeaux, MD
Jennifer Rodgers, MD
Sabrina Sam, MD
Mark Stram, MD
Meghan Warren, DO
Karin Zuegge, MD