Faculty in the rapidly expanding Division of Critical Care Anesthesiology provide intensivist coverage in the Cardiothoracic Surgical ICU, the Surgical/Trauma ICU and the Medical ICU. Thanks to the growth of the transplant and mechanical circulatory device (VAD, ECMO, Total Artificial Heart) programs, our faculty now provide exclusive coverage in the CT Surgical ICU. The team consists of anesthesiology residents, fellows and advanced practice providers who participate in daily, multidisciplinary ICU rounds where complex cases are discussed at bedside.
University of Wisconsin Madison and UW Health are home to one of the nation's leading organ transplant programs. Our surgeons and physicians are experts in their field. Faculty are called upon to provide world-class care to heart, lung, heart/kidney, heart/liver and heart/lung recipients in the CT Surgical ICU.
UW Health is also dedicated to growing its ECMO program. The current program supports approximately 60 cases per year. As part of UW Health's ECMO Team, our faculty participate in ECMO patient selection and management. Interested faculty will also play an increasing role in the cannulation of ECMO patients. The Division is currently developing ECMO cannulation training modules and will soon share this procedural responsibility with CT surgical colleagues.
The Division of Critical Care Anesthesiology sponsors an ACGME-accredited ACCM Fellowship with two fellows per year. Resident and Fellow education is a core responsibility. Research endeavors are encouraged via well developed institutional and departmental research funds.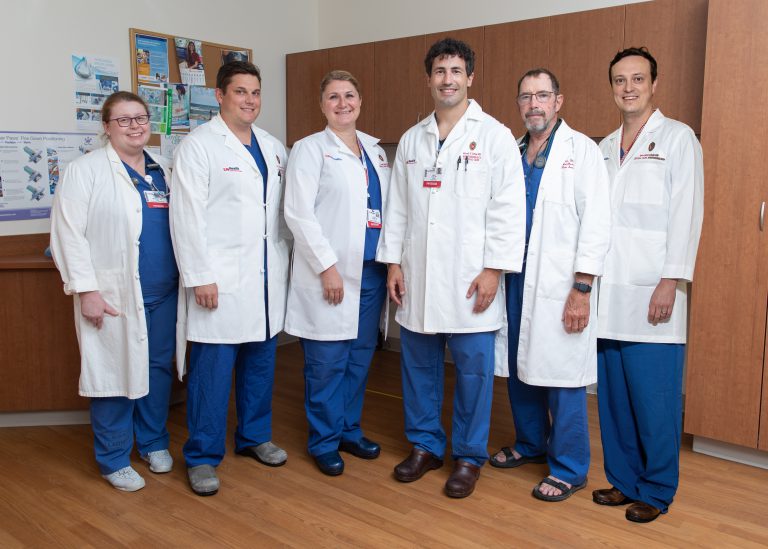 DIVISION HIGHLIGHT
Dr. Gozde Demiralp joined the Division of Critical Care Anesthesia in August 2020 as medical director of the cardiothoracic surgery ICU. Dr. Demiralp has a specific interest in advanced cardiac critical care and mechanical circulatory devices (MCDs). As medical director, she will establish multidisciplinary collaborative rounding team modules for high-acuity ICU patients. She also envisions unifying all clinical service lines that require MCDs within the cardiothoracic surgery ICU, where all intensivists will serve as functional members of the ECMO team. 
Division Chief
Chris Cassara, MD
Assistant Professor
608 263 8100
cassara@wisc.edu
Specialists
Douglas Adams, MD
Robert Arrigo, MD
Anila Bhatti, MD
Christopher Cassara, MD
Gozde Demiralp, MD
John Dollerschell, MD
Laura Hammel, MD
Micah Long, MD
Justin Tawil, MD