The Division of Chronic Pain Management is part of a larger multidisciplinary pain management program at UW Health.
In addition to treating all chronic pain conditions using the most advanced modalities and technologies, we also provide a second-opinion service, eConsults, and telemedicine services. Members of our division have participated in many research endeavors, including U.S. Food and Drug Administration trials. We also co-direct an accredited chronic pain fellowship in collaboration with the UW School of Medicine and Public Health Department of Orthopedics and Rehabilitation.
Members of the division pursue state-of-the-art clinical strategies to reduce chronic pain and manage general pain treatment, with an emphasis on treating the whole patient and carefully considering the pathology of their pain. The team is able to dramatically improve quality of life with advanced technologies and modalities that successfully reduce or block pain.
Dr. Abd-Elsayed's clinical trial titled "NOVA" examines the efficacy of new spinal cord stimulation waveforms on improvement of low back pain in patients with severe pain resistant to all other modalities.
The division also participates in national research studies, including neuromodulation Product Surveillance Registry (PSR) funded by Medtronic and the COMFORT study, a clinical study of a micro-implantable pulse generator for the treatment of peripheral neuropathic pain sponsored by Nalu. New clinical trials are being assessed that examine the treatment of chronic pain and peripheral nerve stimulators for treating different neuralgias.
DIVISION HIGHLIGHT
Dr. Keth Pride serves as the associate director for the chronic pain fellowship program, section head of neuromodulation, and the director of the anesthesia resident pain rotation. With a particular interest in peripheral nerve stimulation, he contributes to many ongoing research studies, including one which seeks to evaluate the efficacy of lumbar radio frequency ablation. An active instructor in the UW School of Medicine and Public Health, Dr. Pride teaches medical students as a Partner Longitudinal Teacher Coach.
Division Chief
Alaa Abd-Elsayed,  MD, MPH
Pain Dyad, Director of Chronic Pain, and Assistant Professor
608 265-0808
Email Dr. Abd-Elsayed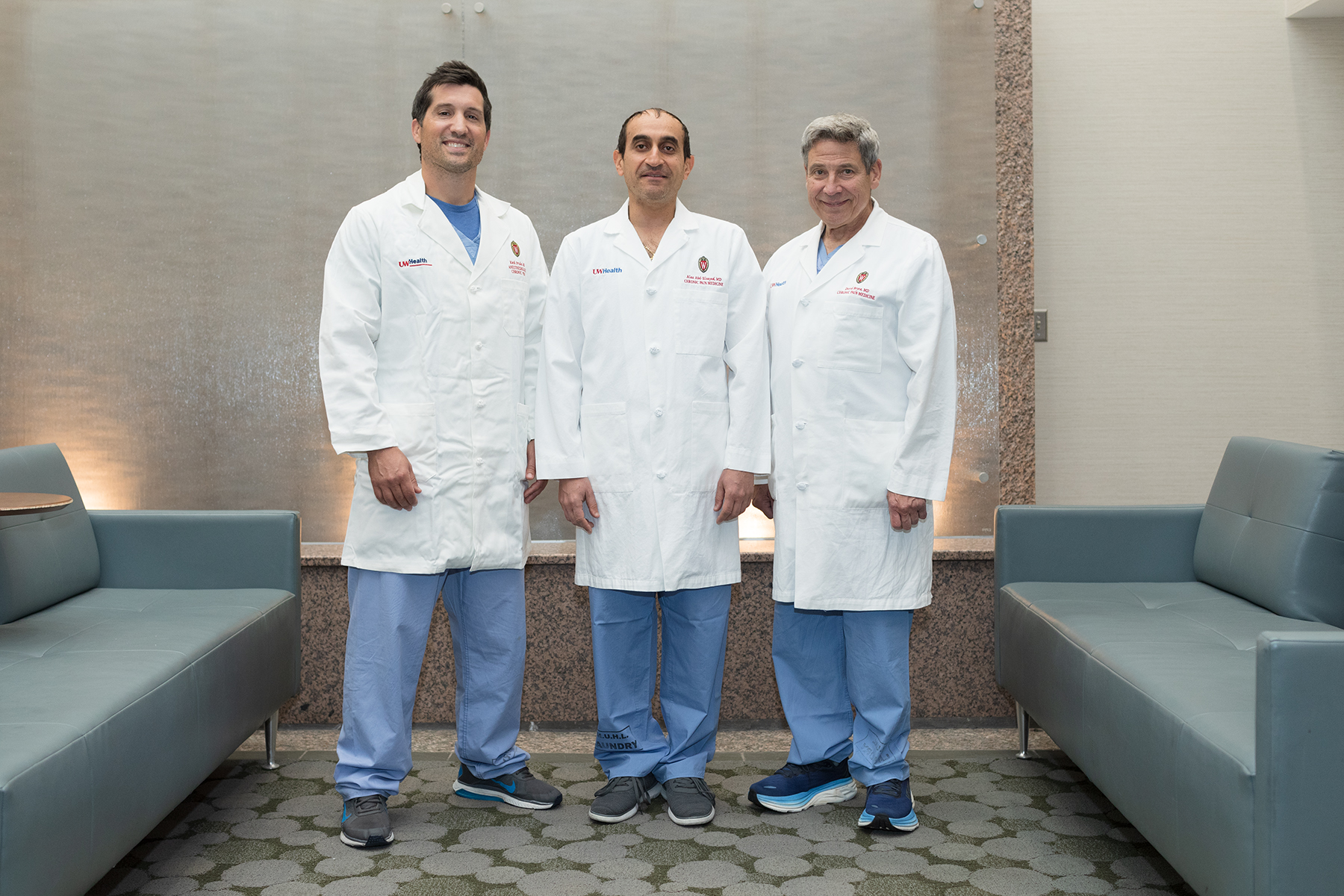 Specialists
Alaa Abd-Elsayed, MD, MPH, MBA
David Bryce, MD
Keth Pride, MD