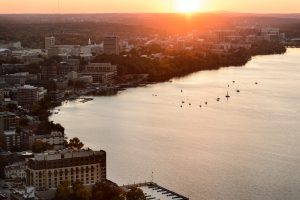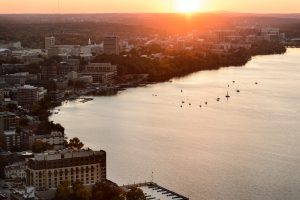 Diversity, Equity, and Inclusion
Excellence occurs when individuals from diverse backgrounds come together. With this conviction, our clinical, educational and research programs actively foster safe and supportive environments. Our residents, faculty and staff have participated in educational sessions on recognizing bias and microaggressions in health care. As part of the Accreditation Council on Graduate Medical Education (ACGME) Committee on Diversity and Inclusion, we closely monitor and implement its recommendations. 
To learn more about SMPH's Commitment to Diversity visit this link: https://www.med.wisc.edu/about-us/diversity/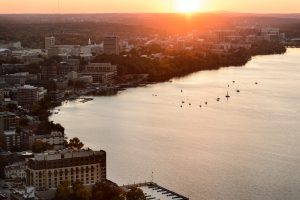 Global Health:
Led by Dr. Deborah Rusy, residents can participate in global anesthesia efforts (including clinical service, education and training and research) to support patients and providers in low- and middle-income countries. Simulation: Residents participate in simulation activities throughout their training. First-year simulations focus on procedural skills such as central line placement and advanced airway management. Clinical anesthesia sessions offer active training for crisis scenarios and rare anesthesia-related events and provide practice in difficult patient scenarios.
https://anesthesia.wisc.edu/global-anesthesia-programs/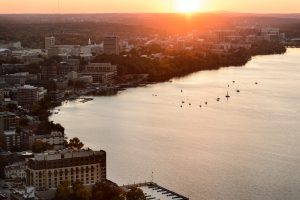 Faculty Development:
The UWDOA has an increasingly robust and growing structured career development process for newly appointed faculty in the three appointment and promotion tracks: Tenure, Clinical Health Sciences (CHS), and Clinician-Teacher (CT) (For more information and for promotion timelines, see overview-of-faculty-tracks/appointment-and-promotion). The UWDOA has a designated Vice-Chair for Faculty Development and Promotion and 2 Associate Vice-Chairs complemented by a promotion program manager and an administrative assistant who are readily available to assist faculty in career advancement. This program is complemented by resources that are available within the UW School of Medicine and Public Health (UWSMPH), which routinely provides educational courses such as Promotions 101 and 102, Fundamentals of Clinical Research and Trials, the Teaching academy program, and others [For details see (Faculty Affairs and Development Home page) (Faculty Affairs and Development Career Development Programs)] to  optimize career maturation. The Associate Dean for Faculty Development and Promotion and their staff are also readily available for consultation.
When the faculty member signs their initial UWSMPH appointment letter, they will have agreed to assignment to one of the three tracks. The vast majority of new appointees join on the CHS or CT track. They have the right, however, to change tracks once at any time during the first three years of appointment. When the new faculty member joins the department, they are assigned a senior faculty as an initial mentor who will act as a guide, facilitator and counselor as the individual becomes familiar and comfortable with the UWDOA and UWSMPH system and culture. Within the first 2-3 months, new faculty will meet with the Vice-Chair for Faculty Development and their staff to review promotion guidelines, to discuss the individual's interests/goals, to create a formal mentor committee in a timely fashion, and to help establish a promotion plan. Mentoring committees usually include three senior members, at least one of whom should be from the UWDOA, but the others can be from any department within the UWSMPH or UW. The committee meets formally with the mentee every six months and files regular updates on progress and goals. The individual also meets yearly with the Vice-Chair for faculty development and their division chief for an annual review. They are, of course, encouraged to meet informally, at any time, with their mentoring committee, division chief or any of the Vice-Chairs.
The Department continues to refine a three-year introductory process for new faculty, Examples during that timeframe and beyond include the following.
Achievement of primary and subspecialty board certification for which the department has resources to facilitate preparation.
Through a UW global membership, new faculty are able to join the National Center on Faculty Development and Diversity (NCFDD) (https://www.facultydiversity.org), which offers a wide range of courses including a 10-part introductory web-based course that enhances the creation of skills, identifies ways to collaborate, provides insights on finding career opportunities, and improves one's ability to organize, time manage, write and speak. NCFDD also provides an ongoing curriculum that can be tailored to further individual career interests and growth.
Departmental support for investigative efforts exists for basic, clinical, educational, QA/QI and translational research. Further, formal training in study design and methodology as well as support for submission of IRB proposals is available.
The John F. Kreul Educational Fellowship and Anna K. Arndt Professorship in Anesthesiology are both awards that are open for junior faculty to obtain support to pursue academic activities including graduate school degrees, investigation, and the like.  
The UWDOA has helped create a Midwest Anesthesiology Faculty Development Consortium with four other academic medical centers (Iowa, Minnesota, MCW, and Nebraska). This group provides a Visiting Professor program, informal mentoring, and collaboration with faculty from other centers on investigative, educational or QA/QI projects.
The UWDOA offers regular opportunities to speak at case conferences, journal clubs, internal and external Grand Rounds and other venues such as the Arndt Airway Course, Wisconsin Society of Anesthesiologists' annual meetings and the like.
Faculty members of the UWDOA are actively involved in service to the ASA, WSA, SCA, SPA, SOCCA, SCCM, ASRA, SNACC, SEA, STA, SAM, and other organizations and  encourage and can help facilitate new faculty membership and participation in these societies.
Periodic departmental seminars with focused breakout sessions are evolving as well to draw on a host of UW and external resources to further career enrichment.
In summary, new faculty are strongly encouraged to make use of these resources for career enhancement and successful promotion. The department provides many methods for growth and career advancement as well as ways to identify the means and connections to others with common interests for collaboration be it in education, investigation, simulation or other academically focused activity or service within the UWDOA, greater UW community or beyond.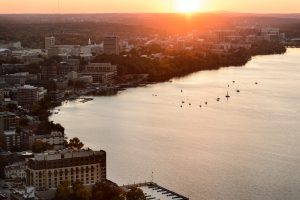 Sustainability:
A healthy planet leads to healthy people. That's why the missions of both UW Health and the Department of Anesthesiology include a commitment to advancing health through social responsibility. In the past decade our department has enhanced the social, environmental and economic sustainability of our practice through waste reduction and education about climate-smart anesthesia practice.
For more information visit: https://anesthesia.wisc.edu/sustainable-anesthesiology.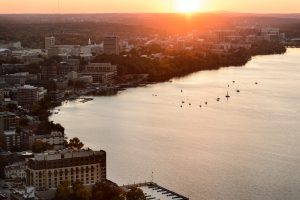 Pre-Op Clinic:
Plans are underway for a new UW Health Pre-Operative Clinic to be led by the Department of Anesthesiology. Allowing us to expand our reach and better evaluate and prepare patients for surgery, this comprehensive pre-op clinic will result in both improved patient outcomes and increased patient and family satisfaction. The clinic will be directed by Dr. William Hartman, who brings his expertise and experience in augmenting pre-operative care systems.
We know that timely preparation of surgical patients decreases their risk of experiencing complications and decreases related costs of longer hospital stays and readmissions. The new clinic will dramatically increase the number of surgical patients we consult each year — from approximately 6,000 today to more than 22,000. Historically, our preanesthesia surgical service (PASS) clinic nurses would perform chart reviews and screening phone calls to risk-stratify patients who were identified by surgical clinics as high-risk. In contrast, our new, comprehensive pre-op clinic will risk-stratify patients based on comorbidities and/or surgical risk and will allow for in-person and virtual patient consults.
Over time, we expect the new clinic to become a perioperative service, with a greater focus on Enhanced Recovery after Surgery (ERAS) processes and protocols, and to eventually provide pre-habilitation for patients in need of baseline health improvements prior to surgery.
Increasing our capacity, efficiency and quality of care will also facilitate study of anesthesia and surgical outcomes and the impact of pre-operative interventions.
For additional questions about our new Pre-Operative Clinic please reach out to Dr. William Hartman, the medical director of the Pre-Op Clinic, at wrhartman@wisc.edu.